Vibration Analysis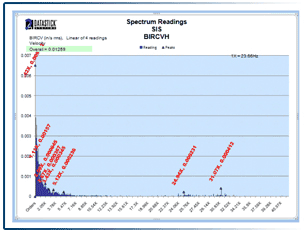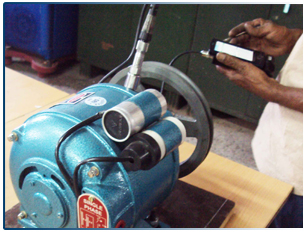 The Science of monitoring the vibration of rotating equipments by using properly placed sensors and detecting the faults from the pattern of vibration Course Objectives:
| | |
| --- | --- |
| | To learn the fundamentals of vibration and applying them effectively to locate the Rotating Equipment faults |
| | To learn about the proper selection of probes |
| | To learn how to mount the probes |
| | To learn to Apply Overall Vibration Amplitude criteria |
| | To Learn to do orbital analysis |
| | To Learn to do FFT Analysis |
| | To be very Comfortable with time wave form analysis, Orbital Analysis, Polar plot , Cascade plot, Bode Plot |
| | To learn the Fault symptom of Motors, Compressors, turbines |
| | To identify Bearing Faults, Gear Box Faults |
| | To understand the Lubrication Problem & Its Symptom |
| | To learn to perform Root Cause Analysis |
| | To Learn to workout cost Benefit ratio by using Vibration Analysis |
Course Schedule
Vibration Analysis
DAY
S1
S2
LUNCH BREAK
S3
S4
9:00 AM – 11:00 AM
11:15 AM – 01:15 AM
1:45 PM – 3:45 PM
4:00 PM – 6:00 PM
1
Introduction
Amplitude Frequency, Phase Explained
Selection & mounting of Sensors
Using overall Vib Meter
2
Faults & Indications in Rotating Machine
Electrical Faults in Rotating Equipment's
Bearing Faults Frequency spectrum analysis & Time wave form analysis
Problems in Rolls & Nips
3
Gear Box Faults & Frequency Spectrum analysis
Synchronous Motor & DC Motor Faults & Analysis
Using Data Stick
Data Acquisition Explained
4
Case History Software study- Rotating Equipment
Bearing Case Study
Gear Box Case Study
Electrical motor case study
5
General Examl
General Exam
Specific exam
Specific exam

Dear Mr Ravindran,
I passed the API 570 exam.
Two other candidates have passed the exam.
Best Regards,
Khalil Slimane
General Manager

Dear Sir,
In the beginning, I would like to inform you that all the team of our company succeed in API 653, we have received this morning the result from API.
For all the participants, I think there is one how haven't pass the exam and another one how failed. So only one of the participants in the exam how don't succeed.
I'm too young to say it for you Sir but I need really to say it that you are the best trainer I have seen(content of training and result of exam).
We would like to thank you Mr. Ravindran for all you do for us and I hope to succeed with your help Sir.
For the new planning Sir, I would like to know if you accept that I work in the new dates ( from 12 August to 12 September) or I have to work on the first planning ( from 15 July to 15 August).
Waiting to hear from you and I'm very proud that the only man in the world is our consultant and continue to push us to succeed.

Best Regards,
SASSI Makram
General Manager
Mondial Inspection & Control s.a

Hello Ravindran Sir,
I am happy to Inform you that I was able to clear API 510,API 570,API 653 with the coaching provided by you.Sir, your doubt clearing sessions found very useful for the Exams.
My sincere and hearty gratitude to you Sir.

Regards,
RANJITH FRANCIS

I, Saran Kumar D , B.E in Mechanical attended the API 570 & API 510 examinations on September & December 2012.
The course was conducted in such a way that, all the topics covered in the class was easily understandable & learnable. The course materials provided in depth analysis of various problems, asked in the real API exams.

I would like to convey my thanks to
Mr. Ravindran for conducting such a user friendly course.

Thanks & regards,
Saran Kumar D

Dear Sir
Good Day!
I appreciate and thank for your effort, help and teaching that made me to get API 510.
Herewith I have attached my passport size photo.Please find the attachment
So once again I sincerely thank u Sir.

Thanks & regards,
Remington Kingston

Dear sir,
The intent of this letter is to Thank and Appreciate the API course that you have been offered to me is outstanding! . I sincerely appreciate the time that you spent during courses ,your guidance, excellent teaching and excellent course material that made me to achieve API 510 , API 653 & API 570.
Again, thank you so much for your help. I greatly appreciate the " great work " you have provided me to grow my carrier and was very helpful and gave me a new perspective on available opportunities.

Best Regards,
Kingston Rivington

Dear Mr. Ravindran Sir,
Thanks for your grateful support to pass out in the examination. I need your support in my future.

Best Regards,
Muthuvinayagan.
Saudi student.

Dear Sir,
I am happy to inform you that i have passed the ApI 570 exam held on December 03, 2010 (calicut). On this occasion I would like to express my deep gratitude to you for guiding me towards this significant professional accomplishment. I managed to pass with a total score of 128/150. I managed to pass this exam only by taking one month time, only by your encouragement and enormous support. Sir, now I look for more guidance from you in developing my career.
Once again thankyou Sir, Thanks a lot...

Your's Suddenly
Paulson